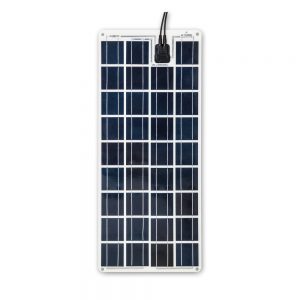 The smallest panel in the Activesol Light family. The extremely lightweight and flexible solar module can be installed in virtually any location – it will not weigh down the construction and it will adapt to the shape of the surface. Compact and lightweight photovoltaic panel will fit perfectly in the most elegant surroundings. Pre-prepared mounting holes allow for easy fixation of the panel.
easy fixation
noiseless
virtually trouble-free
A 36Wp panel produces an average of 150 Wh a day. This amount of energy will provide power to a 7W light bulb for almost 24 hours or allow us to cool by the fan for 5 hours. We can also use this energy to shave using an electric razor while listening to the radio. Despite its thinness, the panel is durable and with full support can withstand pressure up to 100 kg. Thanks to its flexibility, ACTIVESOL LIGHT  panel can be mounted even on slightly curved surfaces.
The family of Activesol Light photovoltaic panels is characterized by exceptional performance and low weight. The modules are designed specifically for mobile applications. They are ideally suited as an independent source of power for boats, yachts, campers. Thanks to low weight they can be installed in almost any location. The aesthetic design of the panel makes ActiveSol an attractive piece of equipment. Activesol is a traveling companion full of energy, trouble-free, waterproof and quiet.